14 Summer Pieces That Are Totally Office Appropriate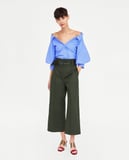 As Summer approaches, you don't have to cover up to keep it office appropriate, especially when you make smart switches to lightweight fabrics, bright colors, and breezy silhouettes that get the job done without compromising on style or comfort.
Below, we've culled 14 office-style game changers to shake up your 9-to-5 dressing routine in the best way possible. Think cropped pants, a shirtdress, and a cool new bag to take you right into the boardroom in style – because really, you have no business wearing that tweed suit in the 85-degree heat.
– Additional reporting by Nikita Ramsinghani
Source: FS – All – Fashion – News 2
14 Summer Pieces That Are Totally Office Appropriate