Princess Anne Has Owned This Coat For 40 Years, and You'll Never Guess How Many Times She's Worn It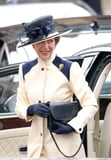 While Kate Middleton is known to repeat her favorite looks, Princess Anne may have just taken her spot as the most relatable royal ever. During the Commonwealth Service in London, Princess Anne joined the rest of the royal family wearing a chic white coat that featured blue shoulder accents.
As it turns out, this isn't the first time Princess Anne has worn this amazing jacket. The service actually marked the princess's sixth public appearance wearing the tailored outerwear. She first wore the coat almost 40 years ago back in 1980. Since then, Anne has worn it multiple times and has found fun little ways to update her look by swapping out her bag, hat, and brooch. Read on to take a look back at all of the times Princess Anne has worn this amazing coat.
Source: FS – All – Fashion – News 2
Princess Anne Has Owned This Coat For 40 Years, and You'll Never Guess How Many Times She's Worn It